---
Information about buying, renting and commissioning art
There are three ways to buy or rent.
Read it in detail on this page
Buy
Go to ART to select unique works of art.
> Can be ordered online.
> Atelier visit with more choice by appointment.
– Directly available.
– Prices are listed under each work.
– Click on the photo for more information per work and to order.
– Payment is made with iDEAL.
– Of course you can also contact us.
Prefer to rent first?
Download the rental information here with some savings.
– Large canvases can be rented temporarily
– Also an art wall with 3, 5 or 9 little ones
– Up to a year
– Renting is flexible
– The first 3 months at once, then cancellable per month
– The rental prices are listed under the paintings
High-end Prints
Go to the Prinstore for professional large format prints.
See in real life?
Make an appointment for a studio visit.
Or visit one of the exhibitions.
Commissioned
Read the information at Commissioned and contact us for a no-obligation quote.
Prices when buying
– Excluding shipping costs and framing
– Including taxes in Holland
Prices when renting
– Excluding shipping costs and framing
– Exclusive of VAT
Transportation costs
The transport costs are calculated separately. Depending on the type of artwork and the location. We will discuss this separately when purchasing.
> Pick up in the studio Amsterdam is always possible. Please contact us for this.
Framing
All artworks are ready to hang, but without a frame. Works on paper still need to be framed.
A frame is not necessary for large work. For smaller work it can give more body. A frame is sensitive to taste and fits both the work of art and the space where it will be hung. Ixxi Prints are ready to hang and no longer require a frame.
> I regularly have art framed and take care of this if desired. Contact us.
Delivery time
– PRINTS: within 10 days
– Purchase / rent ART from the website: within 2 weeks
– ART from the studio: take it with you directly or have it delivered by appointment
– Have it framed: 3 weeks
Right of return
With internet purchases, the legal right to return is 14 days after purchase. Money will be refunded as soon as the artwork is returned and without damage.
1 week on sight, service
A work can be viewed from the studio for 7 days before a decision is made.
Pay
> Via the order button with iDEAL at each work of art. The invoice incl. taxes will be sent by email Shipping costs are calculated separately.
> Paying in instalments is negotiable. Please contact us for this.
> The artwork will be delivered as soon as the amount has been transferred.
> Renting is tailor-made and will follow the quotation and invoice.
Damage
If damage occurs during the 7/14 day period, the work cannot be taken back. The total amount must be paid immediately.
Studio visits by appointment
> In Amsterdam Old South, near The Vondelpark.
> By video call.
Want to know even more?
Also take a look under the heading Art Affairs
or contact us.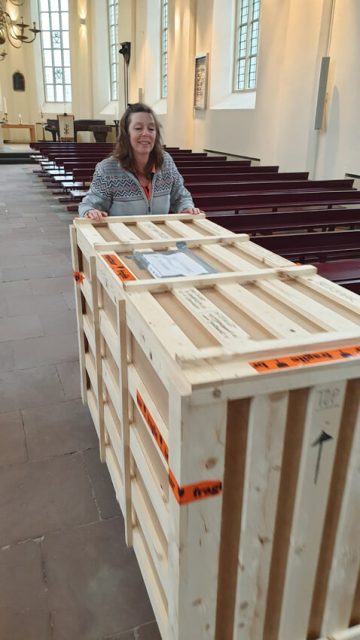 ©️ Gea Zwart, all rights reserved. Unsolicited use of image and text is never allowed and has legal consequences. Contact us for information.