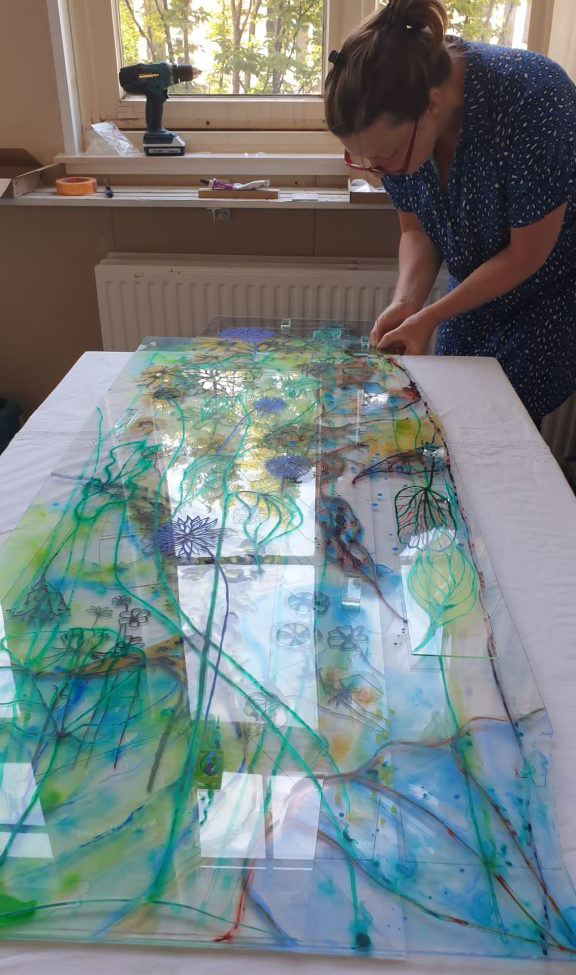 1992 – PRESENT Visual Artist
2019 – PRESENT Art in Commission
Studio in Amsterdam, to visit by appointment
part-time work
2009 – 2019 Art Projects and Collaborations
2009 – 2019 Graphic Designer, self-employed
2000 – 2010 Painting teacher, self-employed
1992 – 2000 Graphic Designer, employed
Born 25-03-1968, Hoevelaken
Education 1987 – 1992 Academy of Fine Arts, Minerva, Groningen. Diploma autonomous painting, art
Residence Zaandam since 2003, previous residences Hoevelaken, Drachten, Groningen, Hilversum, Amsterdam
EXHIBITIONS
selection
CITIES AND COUNTRIES
ABROAD
Barcelona, Spanje
Beijing, China
Boekarest, Roemenië
Brussel, België
Cuneo, Italië
Innsbruck, Oostenrijk
India
Londen, Engeland
Malmö, Zweden
München, Duitsland
Pakistan
Parijs, Frankrijk
Sint Petersburg, Rusland
Stockholm, Zweden
Straatsburg, Frankrijk
Venetië, Italië
THE NETHERLANDS
Almere
Ameland
Amsterdam
Amstelveen
Assen
Echt
Enkhuizen
Eindhoven
Den Bosch
Den Haag
Groningen
Haarlem
Laren
Leeuwarden
Oudewater
Pampus
Purmerend
Rotterdam
Schiedam
Ulvenhout/Breda
Utrecht
Vijfhuizen
Zaandijk
Zaanstad
Zoetermeer
in collaboration with MUSEUMS AND GALLERIES
Maria Chailloux
Museum Boijmans van Beuningen
Museum Waterland, Purmerend
Ooster-Laren
PlayRoom
Sojo Art
ONLINE GALLERIES
Kunstuitleen.nl, Amsterdam
Modern Dutch Art, Castricum
Saatchi Art, Los Angeles VS
SBK, Amsterdam
Singulart, Paris
ART MEDIATION
ArtExperience Kunstbemiddeling
Bubble Art Projects
ArtZaanstad
Powered By Art
ART COMMITTEES
GasUnie Groningen
Jeroen Bosch Ziekenhuis
KPMG
Kunsteiland Zaanstad
KunstFort Vijfhuizen
Kunstmaand Ameland
Pampus
Provincie Drenthe
Unesco
HIGHLIGHTS
EXHIBITIONS, selection
2022, 2019 KUNSTEILAND, Zaandam, group
2021 KUNSTMAAND AMELAND, NH Church Hollum, solo within the route
2021 GALERY PLAYROOM, Zaandam, group
2019 VENICE simultaneously withKUNSTBIËNNALE,
Hilton door Bubble Art Projects, group
2018 PAMPUS, Festival Proef Pampus, Pinksteren, group
2017 ANNIVERSARY EUROPATOUR , 25 years of artist in collaboration with Bubble Art Projects , Hilton hotels PARIS, BRUSSELS, STOCKHOLM, STRASBOURG, MALMÖ, BEIJING, BUCHAREST, LONDON, group
2017 JEROEN BOSCH ZIEKENHUIS, Den Bosch BOULEVARD with 8 poets, solo
2017 ARTIST OF THE DAY, SAATCHI ART, 30-10-2017, solo online
2016 SHELL HQ, Den Haag, by Powered By Art, solo
2015 ARTZAANSTAD, Zaandam, group
2015 SCHIPHOL AIRPORT, Hilton Hotel, Bubble Art Projects
2013 MUSEUM BOIJMANS VAN BEUNINGEN, Rotterdam, curator Bregje van der Laar, group
2013 – 2014 BEIJING, INNSBRUCK, MÜNCHEN, Hilton Hotels, Bubble Art Projects , solo
2007 KUNSTFORT VIJFHUIZEN, Stelling van Amsterdam, Unesco heritage, solo
2005 MUSEUM WATERLAND, Purmerend, Noord-Holland Painting Biënnale, group
2002 – 2003 UNESCO, EUROPASTELLO, contemporary European Pastellists, ST. PETERSBURG, RUSLAND en CUNEO, ITALIË, group
2000 – 2001 GALERIE MARIA CHAILLOUX, Amsterdam, group

AWARDS
2019
No. 21 top 100, Semifinalist election 'Artist of the year 2020' by st. Kunstweek.
National art award. Shortlisted nomination with 90 artists. 4 voting rounds: 2 by a jury consisting of 100 professionals from the art world and 2 by approximately 20,000 online public voters.
> Public nomination Wildcard
2022 en 2021
1 of the 25 most nominated artists by the public.

2019 and 2018
Best Female Art Repreneur 2019
Audience Award, Art Repreneur Award 2018
ArtRepreneur Academie, Amsterdam van Peter Maasdam.

2017
Saatchi Art Gallery, Artist of the Day, 30-10-2017
1 day of exclusive promotion for Gea Zwart on social media through the world's largest online gallery Saatchi Art.

2012
Winner Competition 'Art on a windmill'
Organized by NUON with Bubble Art Projects. 1 of 24 winners. Prize: Execution and exhibition of the artwork around windmill mast in Windmill Park near Almere.

2002
Royal Prize for Painting
Submit work in the last pre-selection round in Amsterdam.
ART PROJECTS
SELECTION
2013 – 2019
POETRY & ART
Initiative and realization Gea Zwart. Art by Gea Zwart in collaboration with more than 100 poets in Dutch language area.
> Online on the Facebook page @poezieenkunst.
> 6x own project in the national Poetry Week.
> In cooperation with Municipality of Zaanstad, driving poems on cars of the municipality.
> Solo exhibition in the Jeroen Bosch Hospital Den Bosch with 8 poets.
2009 – 2013
PISTE FOUNDATION
Initiative, founder and chairman Gea Zwart in collaboration with board members Irmgard Noordhoek and Joanne Zeegers.
> Multidisciplinary stage for artists and the public
> Thematic projects on the website, in living rooms and library.
CUSTOMERS
COLLECTORS AND CLIENTS
Government
Gemeente Zaanstad
Business
De Windcentrale / NUON, Bubble Projects / GasUnie Groningen / Koninklijke De Kuyper Schiedam / RSVO / Connecta / IN-management / Z-as Maquettebouw / Nederlandse Gedestilleerd Unie (NGU)
Medical
Vasculitis Expertise Centrum Groningen / iMeedu, Interactieve Medische Educatie / TouchofMoon / Tineke Kolvenbach Haptotherapie / The Four Elements / Bart van Mulkom Coaching Mediation
Publisher
Tirade, Literair tijdschrift / Uitgeverij Van Oorschot / Het Moment Ritueelbegeleiders / NIW, Nieuw Israelitisch Weekblad / Literaire uitgeverij De Beuk / Literair tijdschrift Schoon Schip
Art and Culture, organizations
Galerie Maria Chailloux Amsterdam / Amsterdam Art Center / ArtZaanstad / SBK Amsterdam, Breda / Frans Molenaar couturier / DAT Straatmuzikanten festival Alphen a/d Rijn / Splinter en de Winter, theater, tekst en tonen / Stichting Monet / Artexperience Kunstbemiddeling / Stichting PISTE / Kunstuitleen Enkhuizen
Musicians
Annette Scholten, muzikant cello en lame sonore / Nanke Flach, pianiste en pianodocente / Ayumi Matsuda, fluitist / e.a.
Education
VU, VUMC Vrije Universiteit Amsterdam / Proefschriften promovendi aan RijksUniversiteit Groningen, Erasmus Universiteit Rotterdam, Universiteit van Utrecht / Jeelo
Private collections